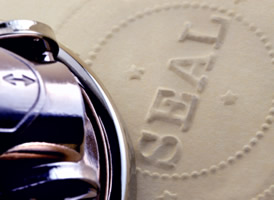 Notarized Documents
Affidavits & Statutory Declarations |  Other
The process of officiating documents can be handled by Cheryl Vavra who is a Member in Good Standing of the Society of Notaries Public of British Columbia
Declarations

 Affidavits
An Affidavit is a statement of written facts sworn under an oath before a Commissioner of Oaths in British Columbia or a Notary Public. After an Affidavit is sworn, it is admissible into Court as evidence. Our office can prepare the affidavit for you or just notarize a prepared document. The affidavit must be made in person by the deponent (person making the oath).

Statutory Declarations
A statutory declaration is a legal document defined under the law of certain Commonwealth countries like Canada. Statutory declarations are commonly used to allow a person to affirm something to be true for the purposes of satisfying some legal requirement or regulation when no other evidence is available. These documents are similar to affidavits (which are made on oath). Statutory declarations include declarations of identity, marital status, intention to change name, statements of originality for patent applications, etc. They are usually made using some government or government agency form.
 Other Notarized Documents

 Certified True Copies: Our office can provide you with a certified true copy of a document. When you arrive for your appointment, you will need to bring the original document with you. There is no need to photocopy the document in advance.

 Authorization for Minor Child Travel (Travel Letters): Written authorization is required when taking children on a trip outside of BC without both parents. The absent parent or parents must swear an affidavit indicating that they permit the guardian to travel with the minor. Furthermore, should the minor require any emergency services (hospitalization or medical treatment); this document would allow the guardian to acquire treatment for the child on the parent's behalf. They are required for international travel (including to the USA) and recommended for travel within Canada.

 Letters of Invitation for Foreign Travel (Sponsorship & VISA Request Letters): We can certify and draft a letter that you can submit for the purposes of supplementing a sponsorship or Visa Request.

 PR Card and Passport Statutory Declarations. We can notarize an application to declare a passport stolen and also may attest your photograph.

 Execution and Authentication of International Documents: Sometimes your family member may need you to sign a document however, they live in another province. We can attest your signature on these documents for delivery outside of British Columbia. We can also prepare documents for use in other countries via our Authentication and Legalization process. Canadian legal documents may not be valid in some countries if they are not duly legalized by a Notary Public.