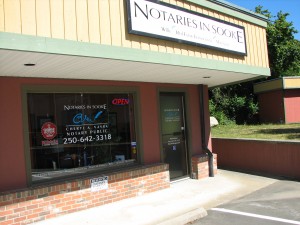 Notaries in Sooke Office
Opened in March of 2010 and is located centrally in the Sooke town core at 1-6726 West Coast Road (in the same plaza as Little Vienna Bakery, the Optometrist and Sooke Evergreen Physiotherapy). I am located just 1.5 blocks from the lights in the center of Sooke. (F.Y.I. Sooke Road turns into West Coast Road after the lights at the Otter Point Road X Street).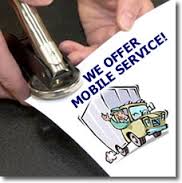 Mobile Service (CANCELLED due to Sars CoVid-19)- now offered and available by request. I will travel into Langford, Colwood, Highlands and Victoria to attend to home or hospital visits. Please call for a quote for this service. Thank you.

  Seminars - upon request, I offer informational seminars about Wills, Powers of Attorney, Representation Agreements, and Advanced Health Care Directives. Please call Cheryl at 250-642-3318 if you would like to schedule a discussion and informational seminar for your club or group. There is no charge for this service.

  I have been published in The  Scrivener Magazine (by the Society of Notaries Public of B.C.) and other publications.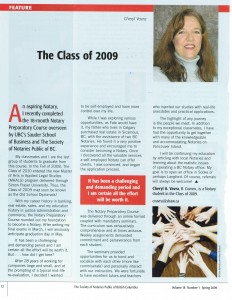 CAV
 Announcements

  On September 1, 2011 - the long-awaited changes to our Adult Guardianship Laws were passed in the Legislature. The amendments bring many changes to your personal and estate planning documents, such as:

  Powers of Attorney (for legal and financial matters).

  Representation Agreements (for health and personal care matters).

  Advance Health Care Directives (instructions to health care providers and family).

   "W.E.S.A." is now in effect - the New Wills, Estates and Succession Act ("W.E.S.A.") came into force on March 31, 2014. The new Act changes significantly the law of Wills and Estates. Click here to review the act: http://www.leg.bc.ca/39th1st/1st_read/gov04-1.htm

  Mexico Child Travel Letters  (effective Jan. 24, 2014)

  Minors (under 19 years of age) travelling to Mexico alone or with a third party of legal age (grandparent, aunt/uncle, etc.) as visitors (tourists or with a short study stay of up to 180 days), REQUIRE authorization or a letter of consent from their parents or guardians. 

  See my article "What is a Notary" in the Winter-Spring 2010 issue of MapleLine Magazine.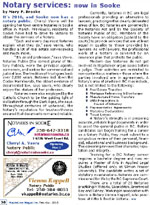 CAV